Here's the list:
updated 2-6-04
The Black Crowes
If you see a show with no grade, I haven't had a chance to check it out yet. If your interested in one of these, let me know and I'll get on it.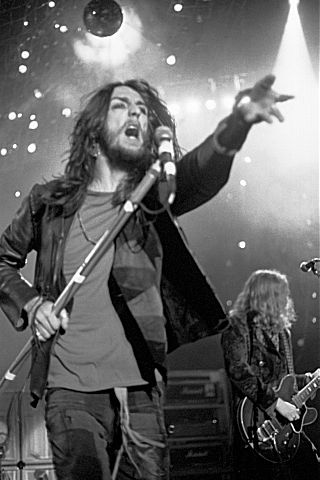 4-24-87 (NEW!)(also has 6-21-90 show)
6-4-90 Pink Pop Festival, Gelen, Holland 1CD
12-5-90 Trax, Charlottesville, VA A 1CD
6-15-91 California 1CD A+
6-20-91 Ronnie Scott's Jazz Club, London, England 1CD A+
11-19-92 Newport Arts Center - Newport, Wales 2CD A-
2-6-93 "High in Houston" A+ 2CD
7-7-93 Pardiso, Amsterdam, Holland A 1CD (incomplete) 50+ min.
2-4-93 University Center, Hammond, LA 1CD
1994 "Taller" 1CD A (appeared as Blessed Chloroform)
11-1-94 Harlesden Mean Fiddler - London, ENG 1CD
12-5-94 (NEW!)
1-25-95 Import "Feeling Alright" Germany 1Cd A
2-4-95 The Zenith, Toulon, France A 2CD (missing last 3 songs from setlist)
2-10-95 (NEW!)
3-4-95 Eagles Ballroom, Milwaukee, WI 2CD B+(has hiss)
3-12-95 Stranahan Theater, Toledo, OH 2CD A-
3-22-95 (NEW)
3-25-95 Orpheum Theater, Boston, MA 2CD A-
3-29-95 (NEW!)
4-2-95 New Haven Coliseum, New Haven, CT 2CD
4-7-95 "Trippin with the Dead" 1 CD A
4-13-95 Fox Theater, Atlanta, GA 2CD A-
5-4-95 International Ballroom, Houston,TC 2CD
5-10-95 Oklahoma City Music Centre, Oklahoma City,OK 2CD A-
7-7-95 Tivoli, Utrecht, Netherlands 2CD
8-12-95 Grat Woods Amphitheater, Mansfield, MA 2CD
8-19-95 Marcus Amphitheater, Milwaukee, WI 1CD A-
12-19-95 Cotton Club, Atlanta, GA 2CD
7-23-96 The Supper Club, NY 2CD B+
7-24-96 The Supper Club, NY 2CD B+
8-27-96 Storytellers unedited 2CD A
9-23-96 Arlene Schnitzer Concert Hall, Portland, OR 2CD
9-24-96 Paramount Theater, Seattle, WA 2CD
10-1-96 American Theater, St. Louis, MO 2 CD A
10-8-96 Murat Theater, Indianapolis, IN 2CD
10-11-96 Palace Theater, Columbus OH 2CD
10-12-96 Morris Civic, South Bend, IN 2CD A (missing encore)
10-15-96 Palace Theater, Albany, NY 2CD
10-18-96 Fox Theater, Detroit, MI 2CD
10-23-96 Whittemore Center Arena, Durham, NH 2CD A
10-25-96 Orpheum Theater - Boston,MA 1CD A (1st 1/2 of the show)
10-28-96 Oakdale Theater, Wallingford, CT 2CD
10-31-96 Beacon Theater, New York, NY 2CD A-
11-4-96 The Strand, Providence, RI 2CD A
11-15-96 (NEW!)
11-23-96 (NEW!)
11-24-96 Memorial Auditorium - Raleigh, NC 2CD A-
11-30-96 Florida Theater - Jacksonville, FL 2cd A-
12-3-96 Robinson Auditorium, Little Rock, AR 2CD
12-6-96 Heyman Performing Arts Center, Lafayette, LA 2CD
12-14-96 4th & B, San Diego, CA 2CD
12-15-96 Las Vegas, The Joint 2CD A
2-15-97 Paradiso, Amsterdam, Netherlands 2CD
2-19-97 Elysee Montmarte, Paris, France 2CD A
2-22-97 The Garage London England (Early And Late Set) All Acoustic (3 Cd-R) A
6-22-97 Lakewood Amphitheater, Atlanta, GA 1CD A
6-26-97 Virginia Beach Amphitheater-Virginia Beach,VA 1CD A
7-1-97 Great Woods Amphitheater, Mansfield , MA 1CD A
7-8-97 Darien Lake Performing Arts Center, Darien Lake, NY (1CD)(ungraded)
7-9-97 Molson Amphitheater - Ontario, Canada 1CD A
7-11-97 Hershey Park Stadium, Hershey, PA (1CD)(ungraded)
7-12-97 Polaris Amphitheater - Columbus, OH 1CD A
7-16-97 Riverbend Amphitheater - Cincinnati, OH 1CD A+
7-22-97 Deer Creek Amphitheater, Noblesville, IN (1CD)(ungraded)
8-2-97 Shoreline Amphitheater, Mountain View, CA 1CD
8-3-97 Irvine Meadows Amphitheater, Irvine, CA 1CD
7-1-98 40 Watt Club - Athens, GA 1CD A-
1-27-99 On Air East, Tokyo, Japan (ungraded)
2-14-99 Chicago, IL The Aragon 2CD A
3-24-99 House of Blues, Lake Bueana Vista, FL 2CD
4-4-99 Fox Theater - Atlanta, GA 2CD
4-6-99 Saenger Theater, New Orleans, LA 2CD A
6-29-99 Olympia, Paris, France 2CD A
10-12-99 Roseland Ballroom, New York, NY 2CD A- (w/ Jimmy Page)
10-16-99 (NEW!)
10-19-99 Greek Theater, CA 2CD A+ (w/ Jimmy Page)
10-23-99 Maritime Hall, San Francisco, CA 2CD A+
4-1-00 (NEW!)
6-24-00 World Music Theater - Chicago, IL 2C B+ (Windy Day!)
6-29-00 Marcus Amphitheater - Milwaukee, WI 2CD B+
7-2-00 Tweeter Center, Mansfield, MA 2CD (ungraded)
7-4-00 (NEW!)
7-8-00 E Center - Camden, NJ - 2CD B+
4-9-01 Scala, London, England 1CD
5-6-01 Beale Street Music Festival, Memphis, TN 2CD
5-19-01 XCel Energy Center, St. Paul, MN 1CD (ungraded)
5-25-01 Blossom Music Sneter, Cuyahoga Falls, OH 1CD
6-01-01 Deer Creek, Noblesville, IN 1CD (ungraded)
6-26-01 Waldbuhne, Berlin, Germany 1CD
7-16-01 Civic Center, Wolverhampton, England 2CD
8-26-01 Civic Center Auditorium, Fargo, ND 2CD (ungraded)
9-17-01 Bronco Bowl, Dallas TX 2cd
10-5-01 Aragon Ballroom, Chicago, IL 2CD (ungraded)
10-24-01 Van Wezel Performing Arts Center, Sarasota, FL 2CD (ungraded)
10-30-01 (NEW!)
10-31-01 (NEW!)
"Home to Roost, Southern Harmony Sessions" 1CD A+
"Frostbite Jubilee" (NEW!)
B-Sides Compilation 2CD A
"Tall As Can Be" 2CD A
"Black Devils" (NEW!)
"Foamfoot" 1CD A+
"Sunflowers" (NEW!) 1CD
"Halloween Secret Gig" (NEW!) 1CD
"Cover Me With a Good Dream" 5CD

Crowes Videos (I CAN'T TRADE VIDEOS AT THE MOMENT.SORRY)

8-4-95 (NEW!) B+ (multiple angles)
10-31-96 The Beacon, New York B+
11-1-96 The Beacon, New york A
11-15-96 (NEW!) B (multiple angles)
2-10-95 Milan, Italy (Pro Shot) B
7-3-97 A- (incomplete)
2-27-99 The Beacon, New York A
2-28-99 The Beacon, New York A
6-30-98 Ziggy's - Winston-Salem, NC A
2-14-99 The Aragon - Chicago, IL B-
10-12-99 (w/Jimmy Page) Roseland Ballroom - New York A-
10-19-99 (w/Jimmy Page) The Greek in L.A. (Pro Shot) A
Behind The Music (first airing unedited) A

Marc Ford
8-7-97 (NEW!) 1CD
5-19-00 (NEW!) 2CD
6-16-01 (NEW!) 2CD
6-22-01 (NEW!) 2CD
7-13-01 (NEW!) 1CD
1-27-02 Malibu Inn, CA w/ Chris Robinson 1CD A
2-10-02 Malibu Inn, CA w/ Chris Robinson 1CD A
2-17-02 (NEW!) A 2CD
8-2-02 (2CD)
10-4-02 (2CD)
Chris Robinson's New Earth Mud
5/25/02 Melkweg, Amsterdam (1CD)
5/26/02 Ooesterport, Groningen (1CD)
5/28/02 Accienne Belgique, Brussels (1CD)
12/13/02 (3CD)
12/17/02 (3CD)
Extras and Encores
Hookah Brown
11/17/02 (NEW!)1CD